Tim's Hands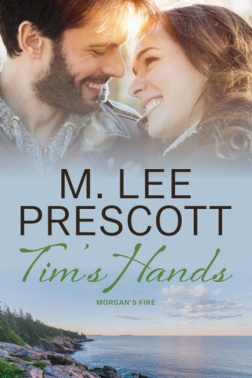 Published by Mount Hope Press
Gail Morgan has never left home. An accomplished PR person for her father's companies, her dad calls her his little hedgehog because, although open and in control in business, Gail is closed and prickly when it comes to her personal life. That is until she meets woodworker and lobsterman, Tim Miller and her well-ordered world is burst wide open.
Dubbed the 'village Heathcliff,' this gorgeous, mysterious man has a dark past. Drawn to Tim like a moth to a flame, Gail plunges into a white hot love affair. Tragedy strikes when someone from Tim's past reappears and Gail's heart is broken, her world shattered. Will these lovers find a way out of the abyss? Join the Morgan family and friends for book #2 of Morgan's Fire and find out!
A Note from the Author
I am so happy to bring you Tim and Gail's love story! This marks the second of the Morgan's Fire books and also previews number three, Pam's Garden—coming in summer of 2019. A contemporary romance series, the Morgan's Fire follows Helen, Harriet, Lucy, Gail, Pam and a host of strong, resilient women — and men — across the country to the New England coastal town of Horseshoe Crab Cove. Thank you so much for reading Tim's Hands and exploring Horseshoe Crab Cove with me. What fun it is to set this book and this series on my home turf, the craggy New England coast, in a beautiful, fictional village filled with colorful, vibrant characters.
If you like Tim's Hands and are willing to write an Amazon review, I would be very grateful. If you would like to sign up for future book releases, giveaways and occasional notices about my books, please click the newsletter link and follow me on BookBub. I promise I will not share your address, nor will I flood you with emails. Do visit my site to read more about my books and hear what's next.
Warm wishes,
M. Lee
Ebook | 199 pages | $4.99 USD | B07TD5W9X9 | August 20, 2019