Silencing the Pen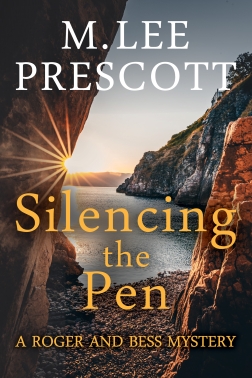 Buy from:

The wait is over! Silencing the Pen, book four of the Roger and Bess Mysteries is here.

This time, Roger Demaris brings his RHD team (Regional Homicide Division), including his second in command, Pete Dugan, to Gooseberry Island to investigate the brutal murder of young poet, Daisy Davis. A participant in a writers' retreat also attended by Bess, Roger's wife, her friend and colleague, Jane Fellows, Hillary Dobbs, Pete's girlfriend, and a host of other colorful characters, Daisy is killed in the newly constructed yoga studio where her mother, Fawn is teaching. As RHD team and Bess and Jane race to discover the murderer's identity, shadows from the past loom over them, provoking another murder.

Under Demaris's gruff, authoritarian exterior lies a kind and loving spirit, and a heart big enough to embrace them all, including the killer. Protecting Bess and his team of detectives, who are like family, while investigating multiple murders, tests every skill in Demaris's arsenal. As this beloved series continues, join RHD as they interview suspects, uncover clues, and discard red herrings in this cozy, island mystery.
$3.99 USD | 978-1737903499