Poof!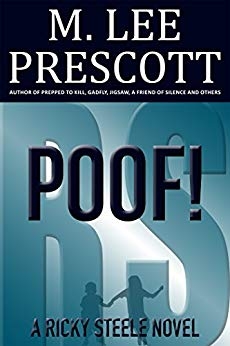 Published by Mount Hope Press
Ricky Steele is on the case, this time hired to find two missing children, who have vanished, poof! The investigation plunges her into the underworld of child trafficking and exploitation as she moves from dark city streets to a wealthy beachfront community, where evil lies behind a façade of gentility. Once again, Ricky is joined by her boarding school buddies, who are visiting for the weekend. Armed with pepper spray and stun guns, the three Rambettes jump right into the investigation, mayhem, and humor following in their wake.

In this fourth book in the series, Ricky also finds love when Charlie Bowen, or Dr. McDreamy, as her friends call him, moves into her neighborhood and into her heart. His daughter, Mike, who wants to learn the PI business, joins Ricky, Wilda, and the gang on yet another breathtaking adventure filled with danger, humor, pathos, and surprise.

"Hooked on the Ricky Steele series by this author. Refreshing to have an older woman as the PI and mature yet still youthful in thought."
$3.99 USD | B075CRBKMB | December 1, 2017