Polly's Heart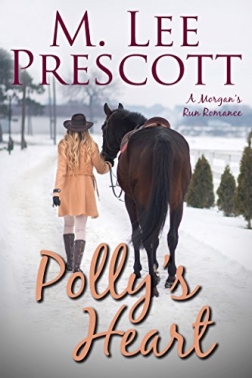 By M. Lee Prescott
Published by Mount Hope Press
Polly Granger comes to Morgan's Run to help run the ranch's new daycare, never dreaming she'll find love with the scruffy, gorgeous Kevin Larrabee, a contractor, whose crew is building a thoroughbred farm and training center north of the ranch for Ben Morgan Senior and his buddy, Spark Foster. From the moment they meet, Polly's fragile heart belongs to Kevin. Seventeen years her senior and divorced, he loves her more than he's ever loved any woman but decides he's too old for the beautiful schoolteacher.

Then, Kevin learns of a child from his past who might be his son and his life spirals out of control. In the midst of this, the two begin a passionate affair that threatens Polly's health and Kevin's resolve to let her go. Surrounded and embraced by their adopted Valley families, the two wonder if their path to love will ever be clear.

Join the Morgan family and friends for this much awaited seventh book in the series. The story of these two lovers will have you laughing, crying and everything in between!
$4.99 USD | B07BV356Y9 | July 1, 2018