Morgan's Run Books 7 - 10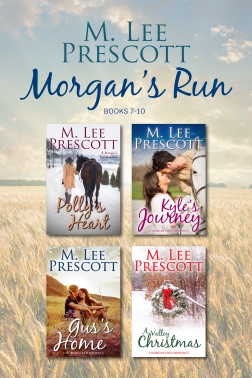 Published by Mt. Hope Press
"Another brilliantly emotional story from M. Lee Prescott. I couldn't stop reading. Recommend to all." -- Bec, on GoodReads
Come on back to beautiful Saguaro Valley and join the Morgan family and friends in three powerful new Morgan's Run romances and a bonus Christmas story!
POLLY'S HEART
Polly Granger comes to Morgan's Run to help run the ranch's new day care, never dreaming she'll find love with the scruffy, gorgeous Kevin Larrabee, a contractor, whose crew is building a thoroughbred farm and training center north of the ranch for Ben Morgan Senior and his buddy, Spark Foster. From the moment they meet, Polly's fragile heart belongs to Kevin. Seventeen years her senior and divorced, he loves her more than he's ever loved any woman, but decides he's too old for the beautiful schoolteacher. Then, Kevin learns of a child from his past who might be his son and his life spirals out of control. In the midst of this, the two begin a passionate affair that threatens Polly's health and Kevin's resolve to let her go. Surrounded and embraced by their adopted Valley families, the two wonder if their path to love will ever be clear.
KYLE'S JOURNEY
Once again Saguaro Valley works its magic when Harriet Winthrop agrees to a vacation with her mom Helen a friend of the Morgans and Spark Foster. After wrenching heartbreak, Harriet has sworn off men forever. Her first valley evening she meets "swoon-worthy" Kyle Morgan and jumps headlong into a white hot love affair. "Love em and leave em" Kyle is bowled over by his feelings for the shy, beautiful east coaster. Then shadows of Harriet's traumatic past sweep over the lovers and their relationship is threatened -- by distance, dangers on the trail and bone shattering memories. Will love bring these two together or keep them apart?
GUS'S HOME

Hoping a fresh start will be good for him and his two young children, widower Gus Casey takes a job as assistant trainer at Spark Foster and Ben Morgan Senior's thoroughbred training facility north of Morgan's Run. A deathbed promise to his wife, never marry or have children with another woman, seems reasonable until he begins a white hot affair with teacher Lynn Manguilli. Crazy about the handsome, horse whisperer, Lynn's heart is shattered when Gus' promise comes between them. Will these two star-crossed lovers find a way to be together?
A VALLEY CHRISTMAS
A Valley Christmas is Leonora and Ben's love story. As they plan their fortieth wedding anniversary party and deal with an unexpected health issue, the beloved couple reminisce about when they first fell in love. And it's the holidays in Saguaro Valley! Family and friends gather to celebrate a wedding, kindle the fires of a new relationship, welcome a Christmas baby, and revel in the ranch's bountiful Christmas season. Join this loving family, their friends, and east coast cousins in book ten of Morgan's Run!
"If you want ideas what to cook or a love story this is your book but there is so much more and I enjoyed it even a courtroom drama is added and a chase." -- Anne Peverett for GoodReads (about Kyle's Journey)
$9.99 USD | B08TTQZGDN | January 20, 2021