Morgan's Run Books 1-3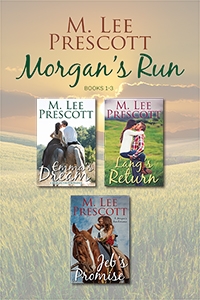 Books 1 - 3
Published by Mt. Hope Press
"This book was a breath of fresh air. I loved it so much." -- Elizabeth for GoodReads
Come visit the beautiful U.S southwest and meet the Morgan family and friends as this series begins in Saguaro Valley!
EMMA'S DREAM
A woman is the last thing on Ben Morgan's mind as he comes home to Morgan's Run, his family's ranch in Saguaro Valley. Doctor's orders, he's home to heal, but the sooner he can get back to Santa Barbara, the better. Then he runs into Maggie Williams on Main Street, prompting vivid memories of a magical night, and Ben's ailing heart skips a beat. Father of her beloved four-year-old daughter, the eldest of the Morgan sons is the last person Maggie expects to have crashed into her car and back into her life. For years, she has struggled to forget him and to make a life for herself and her daughter, Emma, the mirror image of a father who is unaware of her existence. Now, here he is, looking more gorgeous than the day he ran out of town. Maggie swears Ben Morgan will never break her heart again.
LANG'S RETURN
In this sweet, sexy romance, Lang Dillon's life is flipped upside down when he discovers a tall, beautiful woman bent over her truck's hood sobbing. His reluctant return home for his parents' wedding anniversary, takes a major detour on that dusty road in Saguaro Valley. Beth Morgan's neat ordered life shattered, she turns to the sexy, handsome visitor for comfort and finds more than she bargained for as their white-hot romance develops.
Should she risk her heart again when Lang heads home to Boston in less than two weeks? Stay away she tells herself, but that proves impossible and Beth risks a broken heart all over again. As a teenager, Lang could not get out of Arizona fast enough, but this time it's not so easy. If he goes back to the life he loves, he leaves behind the woman he adores, who has rocked his world as no woman ever has. He also leaves his heart.
JEB'S PROMISE
Spark Foster drags his daughter Amy kicking and screaming on an extended vacation to Morgan's Run. After a painful break-up, Amy has sworn off men. Then she takes a ride with adorably cute, wrangler Jeb Barnes and her broken heart skips more than one beat! Jeb is grieving the loss of his "almost fiancée," and his white-hot attraction to the beautiful stranger from Portland shakes him to the core. Like moths to flames, neither can stay away from each other as they work side-by-side at Emma's Dream, a camp for handicapped kids. As her vacation ends, Amy must face the hardest decision of her life-- walking away from Jeb and Emma's Dream as well as four-year-old Toby Cooper, a foster child, who has captured her heart and Jeb's so completely.
"Wonderful things happen in this book. A must-read." -- Tony Lewis for GoodReads
$8.99 USD | B08TLH3848 | January 20, 2021