Morgan's Fire Books 1- 4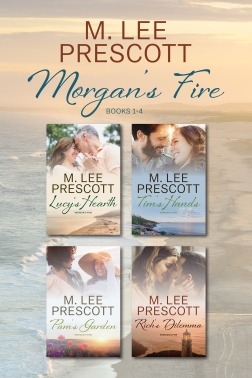 Published by Mt. Hope Press
"Another brilliant emotional story from an amazing author.
I cannot wait for the next book in this series." -- Bec for GoodReads
Come visit the beautiful New England coast and meet the Morgan family and friends of Horseshoe Crab Cove!
LUCY'S HEARTH
Heart in pieces post-divorce, Lucy Winthrop visits her Uncle Ben Morgan's ranch where she meets his younger brother, Richard. Her new neighbor back east, Richard is a self-made billionaire who goes after what he wants, and he wants Lucy. Back home in New England, they begin a white-hot love affair. As the heat pumps up, Lucy tries to step back, scared she is in too deep, too fast. Will this gorgeous Morgan man let her go? And, in pulling away, is she giving up a dream of happiness she never thought possible?
TIM'S HANDS
Gail Morgan has never left home. An accomplished PR person for her father's companies, her dad calls her his little hedgehog because, although open and in control in business, Gail is closed and prickly when it comes to her personal life. That is until she meets woodworker and lobsterman, Tim Miller, and her well-ordered world is burst wide open. Dubbed the 'village Heathcliff,' this gorgeous, mysterious man has a dark past. Drawn to Tim like a moth to a flame, Gail plunges into a white-hot love affair. Tragedy strikes when someone from Tim's past reappears and Gail's heart is broken, her world shattered. Will these lovers find a way out of the abyss?
PAM'S GARDEN
As Pam Morgan adjusts to life in Horseshoe Crab Cove, the last thing she expects is to fall head over heels for dark, dangerous Sandy Rodriguez, owner of a wildly successful music venue north of the village. While every fiber of her being screams no, she is drawn to the older man like a moth to a flame. They begin a white-hot affair that threatens his relationship with his daughter and Pam's fragile peace.
RICH'S DILEMMA
Rich Morgan runs Morgan Enterprises the same way he lives his life – with steadiness and competence. That is until sizzling, sweet Karen Miller comes along and their white-hot love affair turns his world upside down. As they support, nurture, and love one another, their budding relationship weathers illness and former lovers' interference. Then, tragically fate intervenes when Karen is injured. Left paralyzed, she refuses to allow the man she loves to saddle himself with someone who will never again run into his arms, whirl around a dance floor, or splash into the ocean holding his hand. When she tells Rich it's over, his quiet, predictable existence is shattered along with his heart. Will these lovers discover their way back to each other?
"I enjoyed Lucy and Richard and their families. I look forward to reading more about this community and their relationship to each other." – Roxanne for GoodReads
$9.99 USD | B08V1T7SQN | January 20, 2021