Hope's Wonder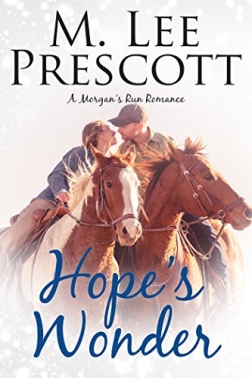 Published by Mount Hope Press
One of the Southwest's most successful painters, Hope Seymour leaves behind a year of grief and despair to nanny for her friend, Beth Morgan's new baby. Not five minutes after arriving in the Valley, she comes face-to-face with Beth's brother, Robbie, the gorgeous adventure guide with whom she danced at Beth and Lang's wedding. Instantly, their fiery attraction reignites and a white-hot affair begins.

Then, Ruthie, the youngest Morgan sibling, fails to return from a pack trip. Family, neighbors, and friends join the search, including Hope, an expert rider. Days on the trail give the couple time to think. While confirmed bachelor, Robbie recognizes that he has found the love of his life, Hope realizes that the secret she carries means she must let him go.

Come join the Morgans and their friends in this sweet, sexy romance, the fifth title in this popular series.
$4.99 USD | B06XGPC53J | June 5, 2017