Bella's Touch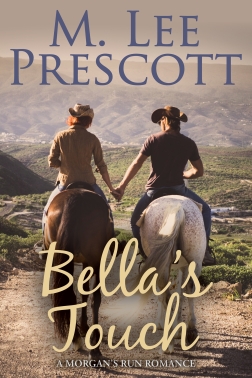 Published by Mt. Hope Press
Running from heartbreak, Bella Jacobi comes to Valley Stables to live with her brother, Tom. As
she makes friends and settles into her new job as midwife at Valley Ob-Gyn, the last thing she
expects is to fall head over heels for Whip Kittredge, a wrangler whom locals call Wild Bill
Hickok with his shoulder-length hair, wild eyes, and a troubled past. Her brother does not
approve.
Drawn like a moth to a flame, Whip cannot resist his boss's beautiful sister. He knows that
Tom's threats are just bluff, but to draw close, fall in love, and give his heart and soul to
another person is risky business for him. Suddenly the terrible losses of his youth come crashing
back, rocking his world and Bella's. Hold on to your Stetson as you join Whip, Bella and the
Valley community for Bella's Touch, Morgan's Run number thirteen!
$4.99 USD | B0B7NVFCGN | October 18, 2022