A Friend of Silence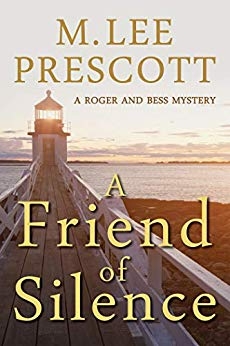 Published by Mount Hope Press
What safer haven could there be than a Quaker boarding school in a tiny New England coastal village? What secrets lie beneath its serene and quiet beauty?

Out of the blue, the campus is laid open, the peace of Old Harbor Friends shattered by the murder of lascivious, comptroller, Milt Wickie. Wickie is discovered in his office, a scrimshaw knife protruding from his chest, a knife belonging to beloved teacher and grieving widow, Bess Dore.

Initially a suspect, the forty-two-year-old, Bess is soon exonerated and jumps headlong into a murder investigation along with old flame, police detective, Roger Demaris, and Harry Winthrop, an amateur sleuth, prolific writer, and the son of the school's wealthiest patron.

Will Bess find romance along the way, giving her heart to the gruff police officer, who still adores her, or to the fly-by-night, but charming Harry who is clearly smitten? Will the killer strike again? Will the silence and calm of the 200-year old Friends school ever again be restored?
$3.99 USD | B00H5FW8EY | December 6, 2013